Govt. approved rapid antigen test, RT-PCR test, Express RT-PCR test. Rapid antigen test shows result only in 15 minutes, Express RT-PCR shows result in 6 hours. Book an appointment online.
We are one of Toronto's highest ranked customized compounding pharmacy. We offer fast, reliable, affordable & customized compounding services. Moreover, we accept online orders.
If you want to lose some extra weight or maintain your healthy weight, we can Help. Our solution helps men lose 3.5lbs and women lose 2.5lbs per week.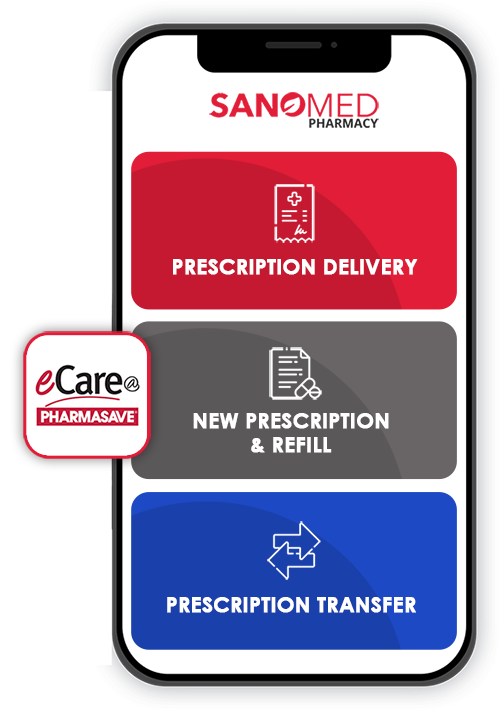 Our Compounding Services
Toronto Pharmasave SanoMed Pharmacy & Compounding Centre offers customized and fast compounding medication service in Toronto. Our online compounding pharmacy offers free delivery service throughout Ontario.
About Us
Online & Storefront Customized Compounding Pharmacy in Toronto
Welcome to Pharmasave SanoMed Pharmacy & Compounding Centre, located in the heart of Downtown Toronto near the University of Toronto St. George Campus. Founded in 2017 by Pouya and Nikoo Toulabi, we are a comprehensive medical center that serves all non-urgent medical needs of Downtown Toronto and the greater Toronto area. We offer a wide variety of services, including a walk-in clinic, family practice, specialty compounding center, and community pharmacy.
As one of the few pharmacies in Toronto to offer completely customized compounding service, we specialize in a range of areas, including pain management, bio-identical hormone therapy, pediatric medications, veterinarian medication, medicated lozenges and more. Our services are fast, affordable, and customized to meet your needs. Along with prescription pickup, we proudly offer free delivery across Ontario for all compounded prescription medications. Thank you for choosing us for your medical and pharmacy needs.
What our customers & vaccine recipients think about us
From booking the appointment, to the reminders, to getting the vaccine, this was a great experience. Everyone was so nice and professional. Thank you for making it so easy.
I have been a customer since the pharmacy opened. Personal service since day 1, very good pharmacist who is knowledgeable and friendly.
Everyone is friendly, professional, and competent—especially Pooya, who administered the vaccination!
My doctor office suggested Sanomed Pharmacy for a compounding ointment. I called them and I explained that I don't live in the neighborhood. They were kind enough to make the ointment for me in half an hour. They also delivered my refills directly to my place (free delivery).
I highly recommend Sanomed Pharmacy. Fast, precise and caring.
Highly recommended – a pharmacy with a courteous, knowledgeable staff and a strong focus on individual needs.
The pharmacist and staff were organized, efficient and professional. Get your covid shot here. Definitely recommend.
Very great pharmacy with super helpful pharmacists! Pooya is very professional, knowledgeable and caring and takes his time to explain everything. I am very grateful for their service.
This is the every best Pharmacy in the city of Toronto. The pharmacist and all is wonderful staff are absolutely 100%. I will not go anywhere else.
I get my medication compounded at this place , very helpful staff, great compounding pharmacy and a convenient medical clinic as well. Highly Recommended.
Partners & Members of
Trusted by some of the biggest brands…